You can add up to Five Family members to your iHeartRadio plan.
Managing the members in your iHeartRadio Family Plan is easy and can be done right from your settings page on iHeart.com!
All you need to do is visit iHeart.com/my/settings while logged into the Primary Family Plan account. Under the Subscriptions section, you will see an area labeled Family Members.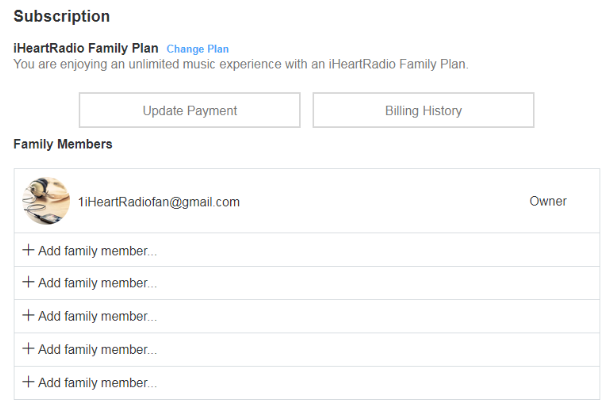 Adding Additional Family Members
You can add up to
To add another family member to your plan simply click the '+' icon, enter the family member's email address, hit Send Invite and you're all set! This secondary family plan member will show as pending until they accept the invite sent to the email address you have provided.

If they cannot find their invitation in their email inbox, you can always resend the invite.

Removing Family Members
To remove a family member from your iHeartRadio Family Plan all you need to do is find the individual you would like to remove and hit Remove Member. This individual will no longer be part of your iHeartRadio Family plan.

Note: Only the individual who initially signed up for iHeartRadio's Family Plan, and is paying for the subscription can add or remove individuals from the Family Plan.
Invited to an iHeartRadio Family Plan and having trouble joining? Check out this article here.